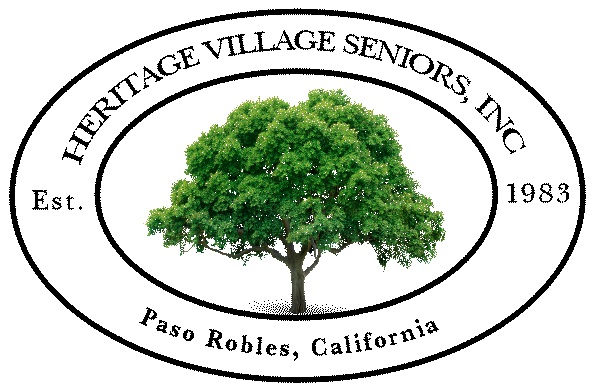 Heritage Village Seniors, INC.
4882 Heritage Road
(805) 238-0306
Heritage Village Seniors, Inc. is a nonprofit public benefit corporation organized and operated exclusively for charitable purposes as a 501(c)(3) established in 1983.
Purpose: To promote a general understanding of the well-being and needs of senior citizens throughout the Heritage Ranch area. To provide health education, health screenings and events and activities to promote health, social engagement and quality of life.
Heritage Village Seniors (HVS) also recognizes the benefits of multi-generational engagement and welcomes participation and support in and through events and activities inclusive of members and nonmembers.
Membership
Eligibility:   Individuals residing in the Heritage Ranch area who are 55 years or older can join as voting Senior Members.  Spouses/Partners of any age younger than 55 may join as non-voting members.
Individuals residing in Heritage Ranch area aged 45 – 54 may join as non-voting Junior Members.
Annual Dues:  $40.00 per couple, $20.00 per person.  Lifetime Membership $250.00.
VOLUNTEERS NEEDED
Whether you are a senior, a junior or somewhere in between, we welcome you as a volunteer. Volunteering is another way of connecting, getting to know more about the community while also spending time doing for others. Some of the areas needing more hands include:
Flag Committee
Special Events Committees
BBQ Committee
Do you have skills you would like to share? Perhaps you are a healthcare worker and would like to assist with blood pressure checks/screenings.
Would you like to offer adult classes/workshops about a topic of interest. Perhaps you would like to help seniors learn to stay connected with their families through virtual technology like Zoom, FaceTime, or other platforms. We would love to hear from you. Call Kris Barker at 805-226-5640.

GENERAL INFORMATION:
Board of Directors
President                     Steve Negro
1st Vice President        Kerry Kraemer
2nd Vice President       Mike Camou
Treasurer                     Joann Reinhardt
Secretary                     Elaine Hollingsworth
Heritage Village Seniors' Board of Directors Meetings
Held on the second Wednesday of each month in the main room of the Don Everingham Center at 10:00 a.m.
The Seniors' Board of Directors Meeting is open to members and those interested in joining.
Don Everingham Center for Rent
If you are looking for a perfect place for your next event. Look no further.
The Don Everingham Senior Center offers a modern 4200 sq. ft. space including a fully equipped kitchen, Great Room, Game Room and lighted and screened-in Patio and BBQ area.
The facility is available for member and non-member family gatherings and celebrations.  For more information and rental rates, call Carol Fieber, Operations Chairperson @ 510-468-4171 or email Carol at [email protected]
Community Breakfasts
 The day of the month will vary based on special holidays and events. Breakfast are scheduled from 8-10 am and most frequently occur the second Saturday of the month. Notices will be posted in advance and members and nonmembers are welcome!
The breakfasts will be prepared for adults, children ages 5 and older, and FREE for children under 5 years of age. Donations are always appreciated and gratefully accepted and helpful in helping the senior organization with fundraising efforts.
Quarterly Luncheons
Luncheons are held Quarterly in February, May, August, and November and are for Members only. HVS Members meet at a county restaurant on a date to be determined. Lunch starts at 11:30 a.m. and RSVP is required due to limitations in seating. This event typically sells out so reserve early.
Regular Activities:
Bingo
Meets the last Monday of the month. Members and Nonmembers are welcome. But must be 18 or older. The doors open at 5:00 pm at the DEC.
Bunco
Meets on the second Monday of each month at 1:30 pm. For reservations, call Skeeter at 805-237-0904. Members and nonmembers are welcome.
Heritage Village Seniors Book Club
Beginning January 2022 the HVS Book Club will meet the 2nd Thursday of the month at 1:00 pm in the game room at the Don Everingham Center. Books will be chosen for their interest to a broad range of people. Members and nonmembers are invited to participate.
Lending Library
Did you know there is a Lending Library located in the Don Everingham Senior Center at 4880 Heritage Road? The lending library offers hundreds of books and a wide range of games, puzzles. It is free and is open to everyone the Ranch. Come check it out. You might just find a book, game, or puzzle to enjoy and share with friends and family while on the lake. The library phone number is 238-0306. Library hours are Monday – Saturday 10am – 12 noon. 
Men's Poker
Every Wednesday, Poker is played in the card room at the Don Everingham Center at 6:00 p.m.
Texas Hold Em
Slated to start up again in January 2022. Must be 18 or older. Games are scheduled on the fourth Friday of each month beginning at 6:30 p.m.  Contact Andy or Julie Duhon at (805) 238-4779 to reserve a seat.
Recycling  
CRV aluminum cans and bottle recycling bins are located at the Center. Please help keep our Ranch clean and support the Seniors with recycling income at the same time.