Heritage Park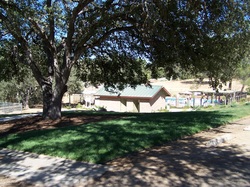 Heritage Park is located on Heritage Road and is the most used park on the Ranch.  In 2002 the Heritage Ranch Planning Committee started designing a renovation and restoration plan for Heritage Park (after the park was almost completely destroyed and abandoned in 2000-2001.  Click here for old photos.).  The Phase I plan was brought to a vote of the membership on February 25, 2003, and a majority of the members approved the Phase I plan which allowed HROA to construct the new "large" swimming pool, bathrooms and pool decking area.  On October 11, 2003, Phase I was completed and the pool was officially opened for use.  In 2007 the Heritage Ranch Planning Committee presented an official Master Heritage Park plan to the HROA Board of Directors.  This was formally adopted by the HROA Board of Directors on July 13, 2007 and a copy was forwarded to San Luis Obispo County to aid in future development conditions
The Gardens at Heritage Park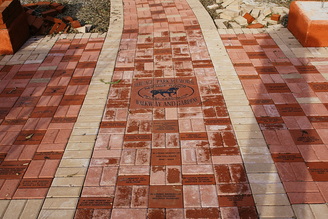 Heritage Ranch has many great amenities, one of which is The Gardens at Heritage Park.  In this area you may purchase a commemorative brick to be laid on one of the planned walkways.  Through this Commemorative Brick program, the Heritage Ranch Owners Association is offering a way for those who treasure their time here to leave a legacy, not just a symbol of your time spent in this area.  Whether you chose to add your own name or honor the memory of a loved one, or pay tribute to a close friend or relative, our commemorative brick program will grow ...one or two bricks at a time.  And when it is complete, it will remember these special people forever.

All bricks will be prominently placed.  Special requests can be granted for specific locations.  Each brick will be engraved in capital letters in the same typeface.  Orders will be accepted at anytime.  

We have a beautiful location, a picturesque section of the park, behind the pool and tennis/basketball courts, where our donations will commemorate a special event in someone's life, honor a friend or family member, memorialize someone special, advertise a business or remember a special pet.

You can pick up an order form at the Member Services Office or Download the form here.  Print, fill out and turn in to [email protected] .
Gateway Park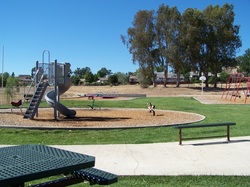 Gateway Park is the first park seen when entering Heritage Ranch, located on Gateway Drive.  This park includes a playground area which was completely restored in 2007, and a baseball diamond which was restored in late 2007.  Around the park is a walking track used by exercisers of all ages.
During the school season, the buses load from Gateway Park. Flashing caution lights alert vehicles to the times of heavy school traffic.
In 2007 the Heritage Ranch Planning Committee presented an official Master Gateway Park plan to the HROA Board of Directors.  This was formally adopted by the HROA Board of Directors on July 13, 2007 and a copy was forwarded to San Luis Obispo County to aid in future development conditions.
Equestrian Park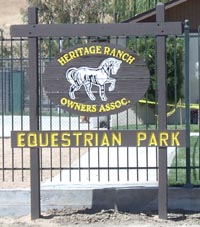 The Equestrian Park is located at the intersection of Barn Road and Equestrian Road.  Both the pool and playground area are designed for smaller children. The playground equipment was completely replaced in April 2020, and two (2) swings were also added. The playground features a full-size, permanent shade cover to protect the children from the hot summer sun.
The play area is ideally located next to the Equestrian Pool and tennis courts and is a safe distance from the street and is protected by iron fencing.
Dog Park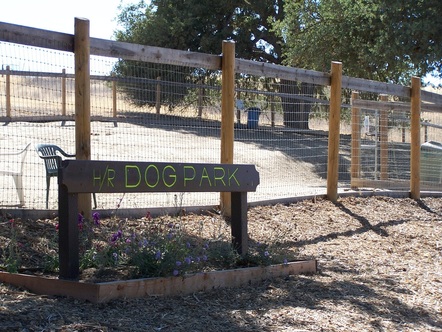 The Dog Park is located in the Pavilion and Large pool area.
There is plenty of room for dogs of all sizes to run around in the fully fenced area.  Also provided are bags and disposal can for waste. Please remember to pick up after your furry friends and help keep the area clean!