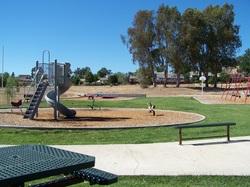 Gateway Park is the first park seen when entering Heritage Ranch, located on Gateway Drive.  This park includes a playground area which was completely restored in 2007, and a baseball diamond which was restored in late 2007.  Around the park is a walking track used by exercisers of all ages.
During the school season, the buses load from Gateway Park. Flashing caution lights alert vehicles to the times of heavy school traffic.
In 2007 the Heritage Ranch Planning Committee presented an official Master Gateway Park plan to the HROA Board of Directors.  This was formally adopted by the HROA Board of Directors on July 13, 2007 and a copy was forwarded to San Luis Obispo County to aid in future development conditions.