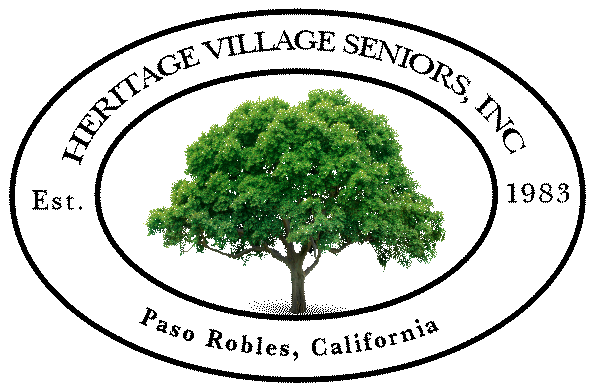 ​The Heritage Village Senior goals include socialization, recreation and service.  With a membership of over 200, this group is very busy with a number of projects designed to appeal to every personality.
Join the Seniors
Membership is open to all Heritage Ranch residents age 55 and older and associate members are 45 years. Life membership $250.  Dues are due January 1st of each year. The annual membership fee is $20 per person.   Come to any of our functions including our monthly meetings, which are held on the second Wednesday of each month at 10:00 a.m. at Don Everingham Center. 
​
To join in the fun, contact Cynthia Hatt at 805-237-1929.
COVID-19 ADVISORY:  THE REGULARLY SCHEDULED ACTIVITIES LISTED BELOW ARE DISCONTINUED UNTIL FURTHER NOTICE.  
Events
Potlucks
Potlucks are held frequently and are announced on this website's Bulletin Board page, the Herald, Ralph's E-Vents and with fliers on local bulletin boards.  Usually, the social hour starts at 5:30 p.m. with dinner at 6:00 p.m. Make your favorite recipe, put it in a pot, bring a friend and join us for a great evening!
Quarterly Luncheons
Luncheons are held Quarterly in February, May, August, and November. Members meet at a county restaurant on a date to be determined at 11:30 a.m.  RSVP is required.
Bunco
On the second Monday of each month. Bunco is played in the main room of the Don Everingham Center at 1:30 p.m.
Men's Poker
Every Wednesday, Poker is played in the card room at the Don Everingham Center at 6:00 p.m.
Seniors' Board of Director Meeting
On the second Wednesday of each month the Seniors' Board of Directors Meeting is held in the main room of the Don Everingham Center at 10:00 a.m.
Community Events at Don Everingham Center
All ages welcome.
Community Breakfasts
On the 2nd Saturday of each month, there is a Community Breakfast at 8:00 a.m. 
Texas Hold Em
On the 4th Friday of each month, Texas Hold 'Em is played at 7:00 p.m.
Bingo
On the 3rd Monday of each month, Bingo is played beginning at 5:30 p.m. 
Community Dinners
Regular Community Dinners are on hold due to Covid-19.
Services
Don Everingham Center Rental
This facility may be rented for non-member family gatherings and celebrations.  For more information, call Carol Fieber: 510-468-4171 or Dale Fieber: 510-910-8992. You may also send email to [email protected]  
Recycling
Aluminum can recycling bins are located at the Center.  Please help keep our Ranch clean and support the Seniors at the same time.
Library
The Library, located in the Don Everingham Center at 4880 Heritage Road.  This is a lending library, free, and open to everyone on the Ranch.  The Library phone number is 238-0306.  See below for current hours.