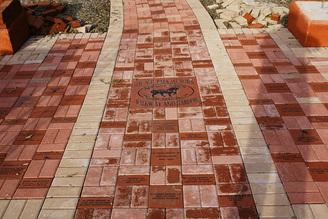 Heritage Ranch has many great amenities, one of which is The Gardens at Heritage Park.  In this area you may purchase a commemorative brick to be laid on one of the planned walkways.  Through this Commemorative Brick program, the Heritage Ranch Owners Association is offering a way for those who treasure their time here to leave a legacy, not just a symbol of your time spent in this area.  Whether you chose to add your own name or honor the memory of a loved one, or pay tribute to a close friend or relative, our commemorative brick program will grow ...one or two bricks at a time.  And when it is complete, it will remember these special people forever.

All bricks will be prominently placed.  Special requests can be granted for specific locations.  Each brick will be engraved in capital letters in the same typeface.  Orders will be accepted at anytime.  

We have a beautiful location, a picturesque section of the park, behind the pool and tennis/basketball courts, where our donations will commemorate a special event in someone's life, honor a friend or family member, memorialize someone special, advertise a business or remember a special pet.

You can pick up an order form at the Member Services Office or Download the form here.  Print, fill out and turn in to [email protected] .