CAL Fire/San Luis Obispo County Fire Station 33 ​Heritage Ranch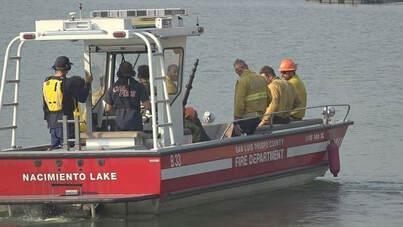 If you have an emergency CALL 911
4820 Heritage Road
Paso Robles, CA 93446
Phone: 805-227-6553
Captains
Michele Partridge
Jason Kimpton
Fire Apparatus Engineers
Brad Meadows
Adric Zayha
Jeff Harvey
Station 33 Responsibilities
​Located inside Heritage Ranch is CAL Fire/San Luis Obispo County Fire Station 33 is staffed with two personnel on duty 24/7.  The staff includes two Fire Captains, three Fire Apparatus Engineers and currently one active Paid-Call Firefighter.

Station 33 responds to all types of emergencies including wildland, vehicle and structure fires, medical emergencies, rescues on water and land, vehicle accidents, public service assists, search and rescue, flooding, hazardous materials, natural disasters and animal rescues.  We have a large response area from San Marcos Road to Rocky Butte, all South Lake Nacimiento Lake Communities to the Monterey County Line and North Lake Nacimiento Communities including Bee Rock, Oak Shores and Christmas Cove Communities and on Lake Nacimiento.
​
Heritage Ranch Station 33 cross-staffs three pieces of equipment.
E-33 is a Type I Fire Engine with a 1500 gpm pump and a 500-gallon tank of water, E-333 is a wildland Type III Engine with an 1000 gpm pump and 500-gallon tank of water.
B-33 is a Rescue/Fire Boat. 
​The station also houses B-34 a Reserve Boat, and an OES Region Urban Search and Rescue Trailer with U-31 a Utility pickup. 
Station 33 also oversees the San Luis Obispo County Volunteer Fire Station 34 and the two Paid-Call Firefighters, E-34 a Type I Fire Engine and P-34 a Type VI patrol.  At least one Rescue/Fire Boat is docked on Nacimiento Lake from Memorial Day to Labor Day at a minimum.
​​Volunteer Firefighters
Heritage Ranch Station 33 actively recruits for Community Volunteers called Paid-Call Firefighters.  Paid-Call Firefighters train, respond and ride-along with the Full-Time staff when they are available.
Community Emergency Response Team (CERT)
CERT training classes are coming soon to the Communities surrounding Lake Nacimiento. 
For more information contact 805-262-7300 or email [email protected].