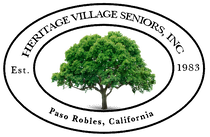 JOIN THE HERITAGE VILLAGE SENIORS:
​The Heritage Village Senior goals include socialization, recreation and service.  With a membership of over 200, this group is very busy with a number of projects designed to appeal to every personality.
Membership is open to all Heritage Ranch residents age 55 and older and associate members are 45 years. Life membership $250.  Dues are due January 1st of each year. The annual membership fee is $20 per person.   Come to any of our functions including our monthly meetings, which are held on the second Wednesday of each month at 10:00 a.m. at Don Everingham Center. 
​