HVS Information updated June 2022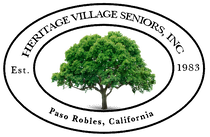 Heritage Village Seniors, INC.
4882 Heritage Road, (805) 238-0306
Heritage Village Seniors, Inc. is a nonprofit public benefit corporation organized and operated exclusively for charitable purposes as a 501(c)(3) established in 1983.
Purpose: To promote a general understanding of the well-being and needs of senior citizens throughout the Heritage Ranch area. To provide health education, health screenings and events and activities to promote health, social engagement and quality of life.
Heritage Village Seniors (HVS) also recognizes the benefits of multi-generational engagement and welcomes participation and support in and through events and activities inclusive of members and nonmembers.
COVID-19 restriction and concerns for the well-being of our senior community forced HVS to cancel or postpone some events and activities during 2021. We are hoping and planning for a more active 2022 with more offerings and community engagement. The following is a list of what is currently available, stay tuned for more!
Membership
Eligibility:   Individuals residing in the Heritage Ranch area who are 55 years or older can join as voting Senior Members.  Spouses/Partners of any age younger than 55 may join as non-voting members.
Individuals residing in Heritage Ranch area aged 45 – 54 may join as non-voting Junior Members.
Annual Dues:  $40.00 per couple, $20.00 per person.  Lifetime Membership $250.00.
VOLUNTEERS NEEDED
Whether you are a senior, a junior or somewhere in between, we welcome you as a volunteer. Volunteering is another way of connecting, getting to know more about the community while also spending time doing for others. Some of the areas needing more hands include:
Flag Committee
Heritage Village Seniors Welcoming Committee
Volunteer Drivers for Medical Transportation Services
Special Events Committees
BBQ Committee
Do you have skills you would like to share? Perhaps you are a healthcare worker and would like to assist with blood pressure checks/screenings.
Would you like to offer adult classes/workshops about a topic of interest. Perhaps you would like to help seniors learn to stay connected with their families through virtual technology like Zoom, FaceTime, or other platforms. We would love to hear from you. Call Kris Barker at 805-226-5640.