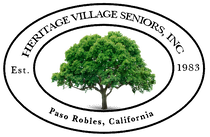 SLO COUNTY HEALTH ADVISORY:
On Friday, August 20th, the SLO County Public Health Department warned COVID cases are spreading rapidly to local county residents with the highly transmissible Delta variant making up the majority of cases.  The County Health Officer noted that all individuals are susceptible to COVID-19 and further advises wearing a mask indoor when in public places including restaurants when not actively eating or drinking.
The Heritage Village Seniors (HVS) Board of Directors needs time to develop and implement a plan for continuing to offer Monthly Community Breakfasts while also ensuring protection for a known highly vulnerable population - our local seniors.
JOIN THE HERITAGE VILLAGE SENIORS:
Heritage Village Seniors (HVS) has an all new Board with goals which include socialization, recreation and service.  The HVS Center is now fully open and the library is open 5 days a week.  The librarian is currently developing a children's program with activities and has developed a more extensive children's section at the library.
They have an active and busy membership, who volunteer on a number of projects designed to appeal to every personality.  Heritage Village Seniors is actively recruiting for members.  Anyone over the age of 45 can join.